Define My Day Planner and Journal
Focus on What Matters
At the core of Define My Day is our daily priorities page. So often, we allow distractions and busywork get in the way of what's most important in our lives. This page helps us ensure we don't let that happen.
Here we:
Write down the few things we absolutely need to do today.
This is not a "to-do" list. Priorities move us forward toward our life's purpose. When necessary, we can break down a priority into tasks that we need to finish in support of that priority.
Uplift our Mindset
By thinking and writing about what we good we have in life, we train our minds to gain appreciation for what we have rather than what we lack. This practice is especially important now more than ever.
Avoid Distraction
It seems so simple, but taking a few moments to anticipate what will knock us off our game can help us be aware of it as it happens, and eventually, before it does.
For instance, "Today I will avoid gossip." The moment it begins, you'll be more aware you need to disengage and move to something more productive.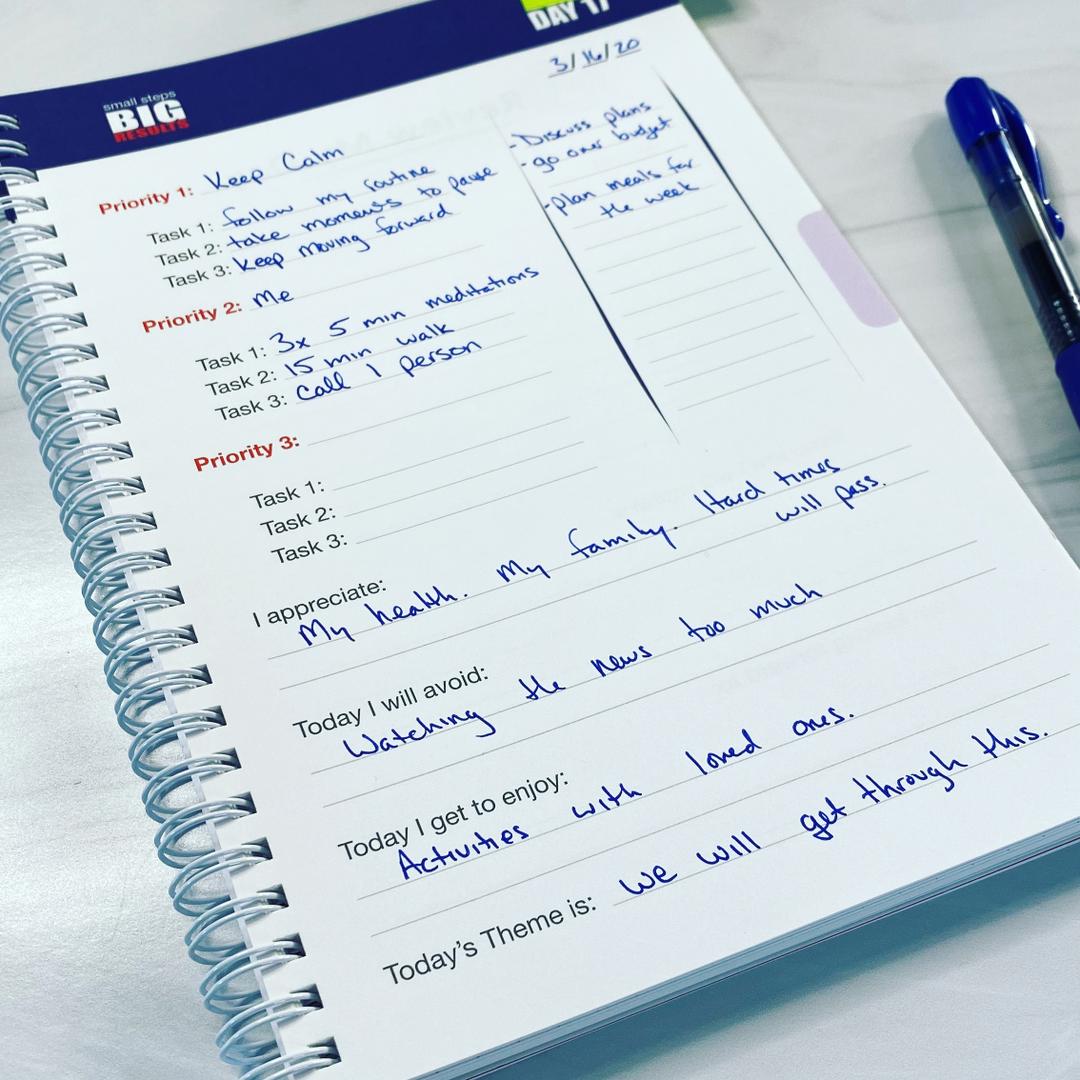 Your Method to Improve Your Overall Health
In the example here, our user is using Define My Day to focus on maintaining their mental and physical health. 
Other days may be more focused on accomplishing work, accomplishing goals, or personal growth. On this day, it's more about taking time to be healthy.
How you use Define My Day is up to you. It is a process of positive growth and discovery.
Habit and Discipline Tracking
Develop daily healthy habits with the weekly tracker
Six basic disciplines with room to add more
Grow at your own pace as you become more effective and efficient
Goal Planning
Identify how you will move toward your ideal self
Plan your personal, professional, health, and relationship goals for the next 4 weeks
Identify key weekly milestones that will move you toward your goals
Each week, rate your progress and identify ways to improve your results
Daily Focus
Identify the daily priorities that will move you forward
Mindset exercises to practice appreciation and positivity
Identify potential distractions to grow your awareness of what erodes your time and energy.
The daily ritual that will keep you focused on your goals and your mindset fixed on positivity and growth.
Printed, shipped, and supported in the US
Love It or Your Money Back!
ORDERS OVER $50 GET FREE SHIPPING!
txtcont:--:
4 Weeks of Focus
Try one to see if our process is for you


:|~|:txtblclass:--:ba-20594216:|~|:ttl5cont:--:

30 Day Money Back Guarantee

:|~|:ttl5blclass:--:ba-20594212:|~|:ttl4cont:--:

$19.99

:|~|:ttl4blclass:--:is-custom ba-20594213:|~|:ttl3cont:--:




:|~|:ttl3blclass:--:is-custom ba-20594214:|~|:ttl2cont:--:
Define My Day
:|~|:ttl2blclass:--:ba-20594217:|~|:slctvrnt:--:14052752883778,14388449017922,14388449050690,14388449083458,14388449116226,14388449148994,16415418024002,31556507992130:|~|:shwqty:--:true:|~|:selclass:--:js-best-value-not-select:|~|:qty:--:1:|~|:prdurl:--:/cart:|~|:prdimgtp:--:variant:|~|:prdbtnltp:--:cart:|~|:prdbtnelt:--:_self:|~|:prdbtncpt:--:BUY NOW!:|~|:prdbtnclass:--:zpa-button-padding-medium bcss-20594180:|~|:prdbtnalign:--:zpa-button-alignment-center:|~|:prdblclass:--:ba-20594180:|~|:lblvisattr:--:data-hidden-label:|~|:lbltxtcont:--:BEST VALUE:|~|:lblmdltxt:--::|~|:lblblclass:--:ba-20594218:|~|:imgimgattr:--:alt="" src="https://cdn05.zipify.com/rUuhjoBujVds_JHsRIsR1qqw710=/fit-in/960x0/2f4a13a381794bd8bd566d4e897bcf9c/scone-500x500.jpg" sizes="960px,830px,720px,590px,450px,220px" srcset="https://cdn05.zipify.com/Y1cdcDHTsbKl3pxHdtQDjV7Si3s=/fit-in/220x0/2f4a13a381794bd8bd566d4e897bcf9c/scone-500x500.jpg 220w, https://cdn05.zipify.com/Vm9Epz2HuQN2zi2IXtgvLVdTfrU=/fit-in/450x0/2f4a13a381794bd8bd566d4e897bcf9c/scone-500x500.jpg 450w, https://cdn05.zipify.com/_mo8Iv0P9ivHU73NL2m7ktkmzok=/fit-in/590x0/2f4a13a381794bd8bd566d4e897bcf9c/scone-500x500.jpg 590w, https://cdn05.zipify.com/Bvu8xzIcb1PKG9HO-ZEDVa6FFUU=/fit-in/720x0/2f4a13a381794bd8bd566d4e897bcf9c/scone-500x500.jpg 720w, https://cdn05.zipify.com/Jnb5e7I7QJc8nV2BypDLFALGtxA=/fit-in/830x0/2f4a13a381794bd8bd566d4e897bcf9c/scone-500x500.jpg 830w, https://cdn05.zipify.com/rUuhjoBujVds_JHsRIsR1qqw710=/fit-in/960x0/2f4a13a381794bd8bd566d4e897bcf9c/scone-500x500.jpg 960w":|~|:imgblclass:--:zpa-mobile-align--center zpa-align--center ba-20594215:|~|:img2blclass:--:zpa-mobile-align--center zpa-align--center ba-20594211:|~|:img2attr:--:alt="" src="https://cdn05.zipify.com/6KT3ieKdKv0oY-Q_GJdTrjWO77E=/c4cbd859d90349908d9b96a3a73e3c8a/best_price_footer.jpg":|~|:handle:--:define-my-day-journal:|~|:dcrt2class:--:ba-20594185:|~|:dcrt1class:--:ba-20594188:|~|:crtmsgclass:--:pcma-20594180:|~|:bvuppclass:--:uca-20594218:|~|:bvprcsvclass:--:hidden mat-20594218:|~|:bvcrnrclass:--:hidden lat-20594218:|~|:brd2blclass:--:ba-20594193:|~|:brd1blclass:--:ba-20594194:|~|:addcrtmsg:--:Product has been added to cart
txtcont:--:
Pick any 3 (or more)
Define My Day books and 2 or more accessories

Our Most Popular Bundle


:|~|:txtblclass:--:ba-20594208:|~|:ttl5cont:--:

20% off the entire bundle!

:|~|:ttl5blclass:--:ba-20594205:|~|:ttl4cont:--:

starting at $52.76

:|~|:ttl4blclass:--:is-custom ba-20594206:|~|:ttl3cont:--:




:|~|:ttl3blclass:--:is-custom ba-20594207:|~|:ttl2cont:--:
Custom Bundle
:|~|:ttl2blclass:--:ba-20594209:|~|:slctvrnt:--::|~|:shwqty:--:true:|~|:selclass:--::|~|:qty:--:1:|~|:prdurl:--:https://shop.yourdefinedlife.com/apps/bundles/bundle/22383:|~|:prdimgtp:--:variant:|~|:prdbtnltp:--:external:|~|:prdbtnelt:--:_self:|~|:prdbtncpt:--:CUSTOMIZE NOW!:|~|:prdbtnclass:--:zpa-button-padding-medium bcss-20594204:|~|:prdbtnalign:--:zpa-button-alignment-center:|~|:prdblclass:--:ba-20594204:|~|:lblvisattr:--::|~|:lbltxtcont:--:Popular Offer:|~|:lblmdltxt:--::|~|:lblblclass:--:ba-20594210:|~|:imgimgattr:--:alt="" src="https://cdn05.zipify.com/4OG6J0eGMfR7e9pZn-8mM3CzVLk=/fit-in/960x0/0c73c8b1ee584568820eea03b5d292d7/pp.jpg" sizes="960px,830px,720px,590px,450px,220px" srcset="https://cdn05.zipify.com/zJh-Hr4WIrV_W0jRZ737bSpy79M=/fit-in/220x0/0c73c8b1ee584568820eea03b5d292d7/pp.jpg 220w, https://cdn05.zipify.com/0v1L_Ss2kxx1IhBVf6NcEUln9Rk=/fit-in/450x0/0c73c8b1ee584568820eea03b5d292d7/pp.jpg 450w, https://cdn05.zipify.com/7_nukhSFJOZgZ8QzZBuiK9OKLGU=/fit-in/590x0/0c73c8b1ee584568820eea03b5d292d7/pp.jpg 590w, https://cdn05.zipify.com/wEKAhAfKkqY-RqM-_VyXDYqpTlw=/fit-in/720x0/0c73c8b1ee584568820eea03b5d292d7/pp.jpg 720w, https://cdn05.zipify.com/WIMmOlbA8QOY4aKrNPzHYw5cE80=/fit-in/830x0/0c73c8b1ee584568820eea03b5d292d7/pp.jpg 830w, https://cdn05.zipify.com/4OG6J0eGMfR7e9pZn-8mM3CzVLk=/fit-in/960x0/0c73c8b1ee584568820eea03b5d292d7/pp.jpg 960w":|~|:imgblclass:--:zpa-mobile-align--center zpa-align--center ba-20594181:|~|:img2blclass:--:zpa-mobile-align--center zpa-align--center ba-20594203:|~|:img2attr:--:alt="" src="https://cdn05.zipify.com/6KT3ieKdKv0oY-Q_GJdTrjWO77E=/c4cbd859d90349908d9b96a3a73e3c8a/best_price_footer.jpg":|~|:handle:--:define-my-day-custom-bundle-1:|~|:dcrt2class:--:ba-20594184:|~|:dcrt1class:--:ba-20594187:|~|:crtmsgclass:--:pcma-20594204:|~|:bvuppclass:--:uca-20594210:|~|:bvprcsvclass:--:mat-20594210:|~|:bvcrnrclass:--:lat-20594210:|~|:brd2blclass:--:ba-20594191:|~|:brd1blclass:--:ba-20594192:|~|:addcrtmsg:--:Product has been added to cart
txtcont:--:
Planning and Journaling for an entire year
Our lowest per book price!


:|~|:txtblclass:--:ba-20594200:|~|:ttl5cont:--:

$11.53 EACH!

:|~|:ttl5blclass:--:ba-20594182:|~|:ttl4cont:--:

$149.95

:|~|:ttl4blclass:--:is-custom ba-20594197:|~|:ttl3cont:--:

$257.87

:|~|:ttl3blclass:--:is-custom ba-20594198:|~|:ttl2cont:--:
Define My Year
:|~|:ttl2blclass:--:ba-20594201:|~|:slctvrnt:--::|~|:shwqty:--:true:|~|:selclass:--:js-best-value-not-select:|~|:qty:--:1:|~|:prdurl:--:https://shop.yourdefinedlife.com/apps/bundles/bundle/22061:|~|:prdimgtp:--:variant:|~|:prdbtnltp:--:external:|~|:prdbtnelt:--:_self:|~|:prdbtncpt:--:CUSTOMIZE NOW!:|~|:prdbtnclass:--:zpa-button-padding-medium bcss-20594196:|~|:prdbtnalign:--:zpa-button-alignment-center:|~|:prdblclass:--:ba-20594196:|~|:lblvisattr:--:data-hidden-label:|~|:lbltxtcont:--:BEST VALUE:|~|:lblmdltxt:--:Save 40%!:|~|:lblblclass:--:ba-20594202:|~|:imgimgattr:--:alt="" src="https://cdn05.zipify.com/vY070V8q0Y0oICs9zSECzIQTljc=/fit-in/960x0/2b0701337ba34085b8c5c330bcbc25da/dmy-sq.jpg" sizes="960px,830px,720px,590px,450px,220px" srcset="https://cdn05.zipify.com/MOruX8z-mbgp6U-Bo62v-1_S9zI=/fit-in/220x0/2b0701337ba34085b8c5c330bcbc25da/dmy-sq.jpg 220w, https://cdn05.zipify.com/Wg6x6EYJ_jy50aDq-p3mXDA2xF8=/fit-in/450x0/2b0701337ba34085b8c5c330bcbc25da/dmy-sq.jpg 450w, https://cdn05.zipify.com/-67G4RO_X3BO0sYG2QMNQno5-AA=/fit-in/590x0/2b0701337ba34085b8c5c330bcbc25da/dmy-sq.jpg 590w, https://cdn05.zipify.com/whoUCiSrMG3r91Bn4eE2vleUCx0=/fit-in/720x0/2b0701337ba34085b8c5c330bcbc25da/dmy-sq.jpg 720w, https://cdn05.zipify.com/Jkrxg8K0AwINSuO9mS7fcRniPeA=/fit-in/830x0/2b0701337ba34085b8c5c330bcbc25da/dmy-sq.jpg 830w, https://cdn05.zipify.com/vY070V8q0Y0oICs9zSECzIQTljc=/fit-in/960x0/2b0701337ba34085b8c5c330bcbc25da/dmy-sq.jpg 960w":|~|:imgblclass:--:zpa-mobile-align--center zpa-align--center ba-20594199:|~|:img2blclass:--:zpa-mobile-align--center zpa-align--center ba-20594195:|~|:img2attr:--:alt="" src="https://cdn05.zipify.com/6KT3ieKdKv0oY-Q_GJdTrjWO77E=/c4cbd859d90349908d9b96a3a73e3c8a/best_price_footer.jpg":|~|:handle:--:define-my-year:|~|:dcrt2class:--:ba-20594183:|~|:dcrt1class:--:ba-20594186:|~|:crtmsgclass:--:pcma-20594196:|~|:bvuppclass:--:uca-20594202:|~|:bvprcsvclass:--:hidden mat-20594202:|~|:bvcrnrclass:--:hidden lat-20594202:|~|:brd2blclass:--:ba-20594189:|~|:brd1blclass:--:ba-20594190:|~|:addcrtmsg:--:Product has been added to cart
:|zpendofcontent|: