Define My Day Focus Planner & Journal
Absolutely love Define My Day!  A total game changer for me! Exactly what I needed at just the right time!!
-Sherri
Define My Day user
Active Community
Our private Facebook group is alive with tips, support, and help from other users just like you!
Grows With You
Define My Day is a flexible planner that grows with you. Keep it simple or push yourself. It's up to you!

Ongoing Support
We offer regular live sessions on helpful topics and are always available to answer questions in the Facebook group or via the help icon on the bottom of each webpage.
Habit and Discipline Tracking
Develop daily healthy habits with the weekly tracker
Six basic disciplines with room to add more
Grow at your own pace as you become more effective and efficient
Goal Planning
Identify how you will move toward your ideal self
Plan your personal, professional, health, and relationship goals for the next 4 weeks
Identify key weekly milestones that will move you toward your goals
Each week, rate your progress and identify ways to improve your results
Daily Focus
Identify the daily priorities that will move you forward
Mindset exercises to practice appreciation and positivity
Identify potential distractions to grow your awareness of what erodes your time and energy.
The daily ritual that will keep you focused on your goals and your mindset fixed on positivity and growth.
Here's What Others Are Saying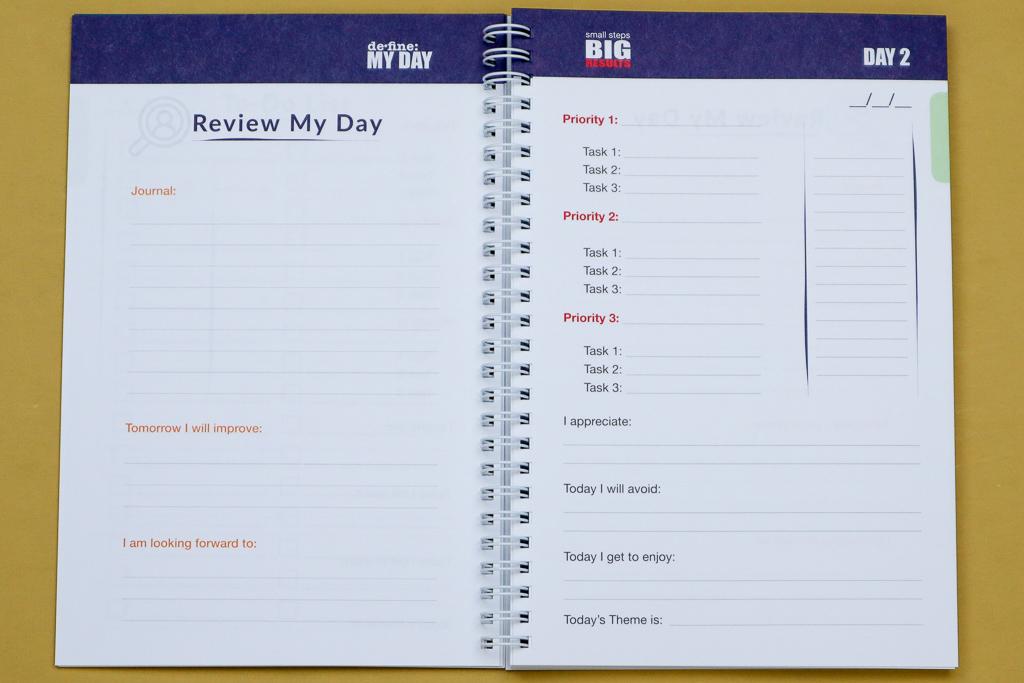 MONTHLY AND WEEKLY GOAL PLANNING AND REVIEW
WEEKLY HABIT TRACKING
WEEKLY "TO-DO" LISTS
A WEEKLY FREE-FORM SKETCH PAGE TO CREATE YOUR OWN DISCIPLINES, HABITS, OR JUST DOODLE.
28 DAILY PAGES TO PLAN AND TRACK PRIORITIES, POTENTIAL DISTRACTIONS, AND MINDSET.
DAILY JOURNAL AND REVIEW.
OVER 40 PAGES OF NOTEPAPER THAT MAKES DEFINE MY DAY YOUR MONTHLY "GO-TO" NOTEBOOK.
6X9" WIRE BOUND MAKES IT EASY TO USE AND TRANSPORT.
DETAILED ONLINE INSTRUCTIONS
ACCESS TO OUR PRIVATE FACEBOOK GROUP TO DISCUSS PROGRESS, MOTIVATION, CHALLENGES, AND TIPS.
:|zpendofcontent|: